Welcome to the Triaxial Galaxy and Sci-Fi Ores series Wiki
Edit
This wiki contains information about Doncdxx's server and mods. The Triaxial Galaxy Sci-Fi Ores and related Tech.
The server currently named Extended Universe is Don's creation. Starting out, a player will normally begin on the planet, but may have the option to start in space. Platinum is only available on asteroids, so the player will need to work on getting to space using hydrogen thrusters that are optionally supported by atmospheric thrusters.
Once in space, platinum can be obtained for the creation of ion thrusters for navigating space more efficiently. Nearby moons will contain the Tier 1 Materials Azurium, Kaelnium, and Petracite. Higher tiered ores can be reached at one of the other planet's moons. Additionally, higher tiered metals can be created using the Exotic Alloy Synthesizer.
Generalized information can be found within the following pages. Specific information will be linked within.
Edit
Latest activity
Edit
Photos and videos are a great way to add visuals to your wiki. Find videos about your topic by exploring Fandom's Video Library.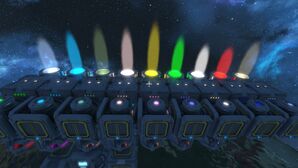 Community content is available under
CC-BY-SA
unless otherwise noted.